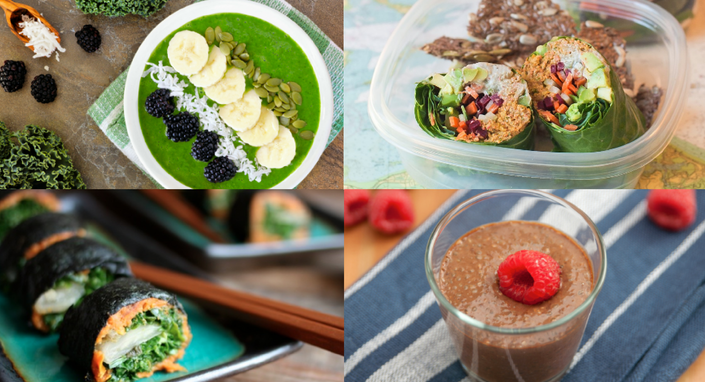 Raw Food Jumpstart Bundle
RAW for Breakfast, Lunch, Dinner & Dessert + ZE PLAN that will show you exactly how to successfully jump into raw foods! Yessss!
Click HERE for Immediate Access
Are you ready to jumpstart your raw food journey?
Friends looking to jumpstart your raw journey, we offer the lovely jump-start bundle at a discount of the usual price of the separate courses. AND, you have lifetime access with the ability to ask questions on the content anytime! Huzzah!
This bundle may bless you if you:
✦ Have been researching raw foods for what feels like forever :-)
✦ Feel like you've fallen "off the wagon" even tho you previously ate successfully raw for some period of time
✦ You've been eating some raw foods but haven't worked out things like travel foods, lunch, habits, and working it out to eat successfully raw yet still have time to, you know, EAT! (Bahaha! But seriously! Raw food can be so complex if you're following some people's recipes.)
✦ Want some simple, gorgeous, and satisfying recipes to make it easy to eat as much raw as YOU would like to
✦ Know you've got some mindset pieces to work through to stick with this
✦ Are, quite frankly, just finally READY to renew your intentions to take care of your one and only body!

[Your program] eased me into going raw.
The mini missions helped me to try new recipes that I had been a little scared to try before. And, everything that I have tried has been super yummy! It helped me to realize how easy and delicious raw food can be. Having regular emails really kept me accountable to the commitment I had made to eat more raw food.
~ Kendall Manwill
Lakewood, California
Courses Included in your bundle: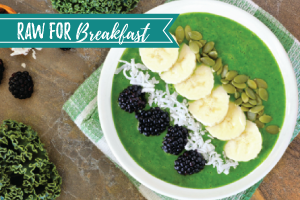 RAW for Breakfast
The easiest (EVER) jump-start into raw foods. With 7 different raw breakfast templates + the tools and mindset to make it a habit!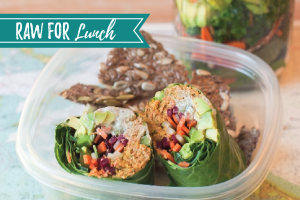 RAW for Lunch
Sort out food on the go (travel raw with ease) AND enjoy delicious guacamoles, wraps, pates, salads, and even raw pasta!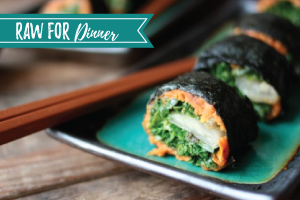 RAW for Dinner
Deliciously satiating dinners, including warming soups, "burgers", lasagna, nori rolls, and more!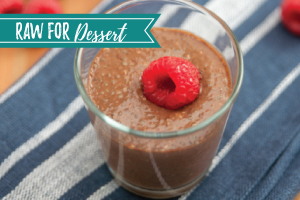 RAW for Dessert
Gluten-free, Dairy-free, Taste-FULL Desserts. Your loved ones will BEG for your recipes!
Purchased Separately, Price is: $388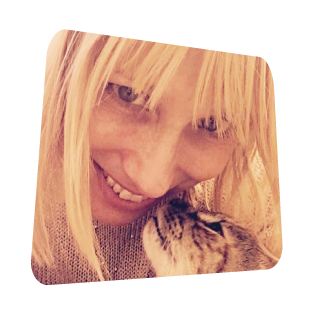 "Hi Eva,

I hope you are doing well! Just wanted to share with you my feelings on how doing the Raw courses that you offer have affected me!!
Once I decided to participate in Eva's Raw Breakfast Challenge, it literally kick-started my journey into becoming fully raw! Giving up the hard core addiction to caffeine cleared the path for getting real energy from green smoothies in the morning and ever since then my life has totally changed!

After successfully completing the Raw Breakfast Challenge, I naturally wanted to keep moving forward with the Raw Lunch and Dinner courses.

I have a completely fresh outlook about food now and all other aspects of my life have vastly improved! It wasn't a goal to lose weight, but I lost 5 pounds in the first 3 weeks of taking the courses and feel amazing!

I am so excited to continue on with this lifestyle for good as the recipes are so easy! I am very grateful to have crossed paths with Eva. From a beginning level to the experienced raw foodie, her ability to share her passion for a raw food lifestyle can benefit anyone!
Eva, this could not be more true for me. I have a feeling this is going to be a long and welcome journey together! Thank you so much for all you are doing. Hugs!! "


~ Donna Elliott
Davenport, Iowa, USA

When do these courses start and finish?
ANYTIME, love. Anytime! We have a timeline we recommend, but you can absolutely be flexible and let this work for your schedule. You have access to all content immediately, and can even have email support the very moment you decide you want it.
What is your refund policy?
We want to serve clients who are the best fit for our programs. You have 7 days to dive in and try these courses risk-free.
How long do I have access to the courses?
After enrolling, you have unlimited access to ALL included courses for as long as you want - across any and all devices you own.
What if I have questions about the content?
Ask away - anything you'd like. Every single topic on every single course has space for you to ask questions! You may also choose to join our clients-only membership for additional support.
What if I don't want to eat 100% raw or vegan?
These courses will help you to add in as much raw food as you like; you may absolutely use it for a cleanse, to simply add in more raw foods, or even to go 100% raw. Your choice, love!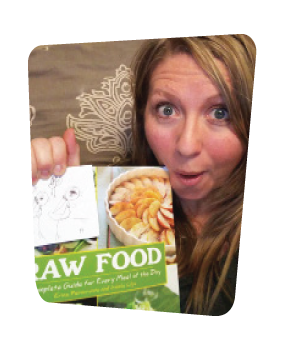 "Ohhhh myyy goodnessss!!!! What an incredible surprise!!!???!!! I just received the gift you sent. It's a dream!! And the note...are you kidding me? It's a framer! The artwork is purely priceless.
I am still trying to heal some digestion issues since my cancer treatment and this couldn't have come at a better time! Truly divine intervention knocking on my door. You are a treasure, and I am more grateful for you and how you show up in the world than I can express with words. I read the first 33 pages and am so darn excited and energized I can't even contain it.
You've provided something that will make my life so much easier...it's shortening the learning curve...providing options...which in turn reduces potential stress or overwhelm leading to the most beneficial state for healing. I am blessed to 'know' such an amazing soul. Keep living out loud just as you do...real, raw and inspiring. So much love and light to you and that sweet little angel of an artist of yours!!
"
~ Jacquelyn Carrier
Houston, Texas, USA
Your Instructor
Instructor Bio:
Éva Raposa is director of The RAW Academy, founder of The Uncooking Club, and consultant to up-and-coming online entrepreneurs who want to make a real and lasting difference in the lives of their clients. Since 2011, Éva has trained hundreds of heart-based raw food enthusiasts to teach the Uncooking101 foundations course.
Éva inspires her own clients to make food, life, and business feel almost too easy. While many courses seem to be about food on the surface, please note that in those courses we take care to deep dive into why it's so much more than just food.
A Message from Eva:
Friends, I'm humbled and grateful to be your companion on this journey. Come as you are; you're at home here. And - of course! - please don't hesitate to reach out during our time together. I'm here for you!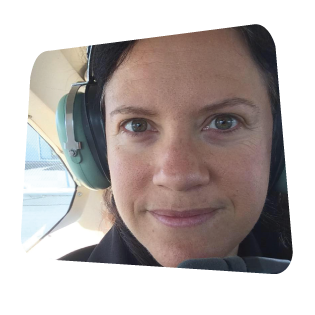 "I didn't know how to break out of this. You freed me... This is lifelong. This is huge.
What I paid for this, is literally NOTHING compared to what you've given me."
~ Leah Jacobson
Newton, MA, USA