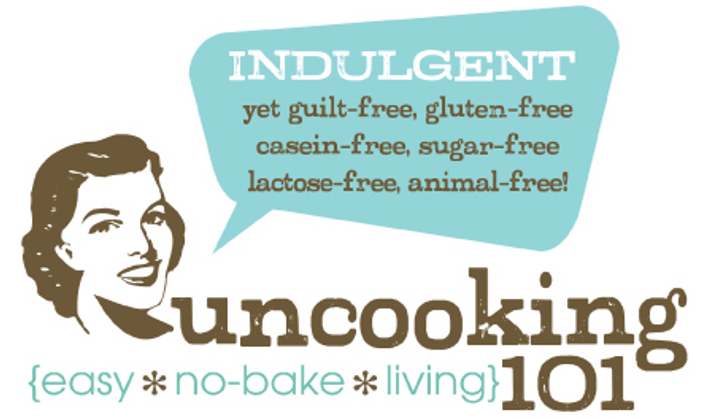 Uncooking 101 [foundational video series]
An Introduction to Raw Food MADE EASY!
"Difficult" and "Diet" Do NOT belong in your vocabulary!
I have some ideas on how you may have ended up on this page. If you know me (Hi! It's Eva writing this!) at all, you know I like it simple. So I sincerely doubt you are looking for ways to complicate your kitchen regimen and add miscellaneous new contraptions to your cabinets.
You are looking to simplify raw food (and really, shouldn't it be simple to go from cooking to not cooking?!). You know it could be like a magic solution for you. (Or better yet, you already know it is AWESOME but want it to be simpler and maybe even tastier?!) You may be overweight or just have those annoying last pounds that refuse to leave. (We're talking eviction notices months or years old, and those pounds are still hangin' out on your belly and thighs like they will never leave!)
If you are not as healthy and fit as you WANT to be, you are almost definitely eating food that does NOT love you back.
You may be sick... or "just" tired... or sick and tired... or sick and tired of feeling sick and tired! You don't have all the energy you want. You don't jump out of bed in the morning EVERY SINGLE DAY with absurd amounts of energy, knowing that almost certainly, today will be the best day ever. Again.
But you want that every day! OH, how you want it! You DESPERATELY want to feel good, better than you ever felt. You want clear skin, a clear head, a happy spirit, and to look in the mirror and have the overwhelming urge to say,
Dang, baby, you look good!"
And let me tell you, I don't care WHAT your situation is NOW... YOU DESERVE ALL OF THAT AND MORE. I wanna see you running circles around the people around you, enjoying your life to the beyond-fullest, spending it with great health and more energy than you thought possible. I want to the people around you to see, in just weeks or even days, that My GRACIOUS, you are glowing! You are a sudden everyday sex pot. Except not at all in the naughty way! In the
Holy smokes! What a vibrant, glowing, sexy creature you are!" sorta way.
Now I KNOW you think it might be complicated. That there's a lot to learn. That this'll be a struggle.
I have news for you.
It's not HARD. In fact, it's SUPER RIDICULOUSLY EASY! You just need to learn a little to change a lot. And believe me, when you taste this food, "struggle" will be the very last word on your mind! You will LAUGH (perhaps even with an evil cackle?!) at the other people around you who think you must be starving yourself to see such quick results. You will feel like cheating, every bite you take!
The class we have for you, is BEYOND easy, BEYOND delicious and BEYOND everything you hoped for your diet, your life, and your future. You deserve this!
Allow me to introduce to you...
Uncooking 101: An Introduction to Raw Food Made Easy. (BEYOND easy ;-))
...the class that will demystify raw food
.
A lucky find for beginners, but even experienced raw food enthusiasts will find new information in this flavor- and action-filled class!
---
Your first several treats include drinks that nourish you, indulge you, satisfy you & even trick you!
* Multiple Nut Milks. One option takes literally 2 minutes, start to finish, and requires only a blender! We will also enjoy the "usual" raw variety of almond milk, but having an alternative like our 2-minute easy milk is such a lifesaver!
* Multiple (Dairy-free) Milkshakes. These will knock your socks off and satisfy anyone. We're talking raw vegan shakes that anyone (yes, ANYONE) would adore!
* A kickin' Fruit Smoothie & a "Green" Smoothie. that isn't even green. Plus, why even those on a standard diet need this one drink to kick their health into high gear (painlessly!).
---
Next we'll completely destroy the idea that salads & green-based meals are b-o-r-i-n-g.
* A truly Sensational Salad & Refreshing Vinaigrette Dressing, with a Rich Pate to top it off. Each of these recipes can be separated -- the pate would work well as a dip or even in a veggie wrap. We'll show you how to use the whole lemon to make a creamy (yet totally nut-, seed- and dairy-free) vinaigrette you will use over and over, and the salad itself is just as lovely!
* The Easiest Burrito Wrap Ever. But this isn't just about the wrap. We'll cover how to make sure you have exactly what you need to 1/ habitually be as raw as you want to be without a struggle and 2/ use these handy items to whip up a meal quickly, anytime.
---
For a few final indulgences, we have two potluck favorites (the truffles and pasta seem to be making their rounds at potlucks all over the world!) and a creamy soup that would put almost any traditionally creamy soup to shame.
You'll learn why the pesto pasta is one countless people have called the "best they ever had"... and you will laugh as you see it takes just a few minutes to whip it together with some of the least expensive ingredients in the store!
And then, when you think it couldn't possibly get better we'll make a dessert that takes about 5 minutes (or 10 if you don't have a friend to help you with the fun part!) and can be transformed from 1 type of truffles into countless others and even donut holes that actually taste like, well, donut holes. (Seriously. We couldn't even make something like this up!)
Course Curriculum
Welcome!!
Available in days
days after you enroll
Section 1 - Raw Food Basics
Available in days
days after you enroll
Your Instructor
Instructor Bio:
Éva Raposa is director of The RAW Academy, founder of The Uncooking Club, and consultant to up-and-coming online entrepreneurs who want to make a real and lasting difference in the lives of their clients. Since 2011, Éva has trained hundreds of heart-based raw food enthusiasts to teach the Uncooking101 foundations course.
Éva inspires her own clients to make food, life, and business feel almost too easy. While many courses seem to be about food on the surface, please note that in those courses we take care to deep dive into why it's so much more than just food.
A Message from Eva:
Friends, I'm humbled and grateful to be your companion on this journey. Come as you are; you're at home here. And - of course! - please don't hesitate to reach out during our time together. I'm here for you!
Questions (& Not-So-Small-Print Details!)
When does the course start and finish?
You have access to the Uncooking101 foundational course immediately and forever, with the ability to ask questions on the content anytime. It's a completely self-paced online course - you decide when you start and when you finish.
How long do I have access to the course?
How does lifetime access sound? After enrolling, you have unlimited access to the course for as long as you like - across any and all devices you own.
What if I have questions about the content?
Ask away - anything you'd like. Every single topic has space for you to ask questions!
What is your refund policy?
We want to serve clients who are the best fit for this program. You have a full 7 days to dive in and try the program risk-free, and if you decide that it's not the right fit for you, we'll refund 100% of what you paid for the course.